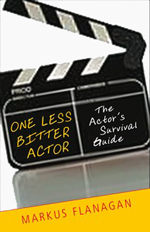 First let me dispel a few myths. "Auditions are about finding the best actor for the job." Get that out of your head.

And conversely, "I didn't get the job, so I must not have been good." Very, very wrong-get that out of your head immediately!
So begins Actor Markus Flanagan's book, ONE LESS BITTER ACTOR, THE ACTOR'S SURVIVAL GUIDE. This is a book that is filled with information and insight that it has taken me decades to figure out for myself…the hard way.
Just the chapter on Auditioning is more than enough reason to purchase ONE LESS BITTER ACTOR. How I wish I'd had this book thirty years ago. I had no mentor, no acting guru and no relative in the business. The information and insight in this one chapter could have saved me a lot of angst, anger and agony along the way.
And it is a book that every actor, particularly every actor at the beginning of his/her career should read and should keep handy for review during the tough times.
Flanagan uses personal experiences from his successful acting career…twenty years and counting…to offer pointers on topics that every actor will find useful:
* How do you combat getting typed?
* Understanding the people you are auditioning for
* Bad habits to avoid in the audition waiting room
* The two deadliest questions you may be asked before starting your reading
* What are they looking for in the call back?
* Dealing positively with rejection
Any actor who has been in the game for more than a little while has personally struggled with or has tried to help friends who have struggled with depression and bitterness. It's almost inevitable.
If a writer's script is rejected for publication or production, it hurts. If a director's film is rejected by the public, it hurts. But in each of these instances, the 'product' that is being rejected is a book, a script, a film…not the writer or the director personally. When an actor's 'product' is rejected, how does the actor not take that personally?
Because of this tendency to take rejection personally, actors frequently make the mistake of wrapping their own view of their talent in the success or failure of every job and every audition.
Flanagan puts it this way:
…by accepting the premise that the only measure of your value as an actor is whether or not you get the job, you are giving your power and your self worth away to others. This is a subjective business. There are no devices to measure talent, there are only opinions. Do yourself a favor. Get in the habit of judging your value by what you know you're capable of.
I say, do yourself a favor and add ONE LESS BITTER ACTOR to your reading list. Read it through. Mark it up the way you'd mark a script you're studying. That's what I did. When I was through I had more marked pages than unmarked.
Here's an idea. If you're not sure this is a book you should have in your actor's toolbox, check out Markus Flanagan's blog HERE.
I don't know about you, but I found that post to have a remarkable level of honesty to share in a public forum. It's his willingness to share this type of experience that gives Markus Flanagan's book the ring of authenticity.
Another of Flanagan's blog posts certainly struck home with me:
Even now, this many years later, I have to have faith that this is where I'm supposed to be and what I'm supposed to be doing. How I treat it is up to me.
Exactly!
To purchase ONE LESS BITTER ACTOR go HERE.