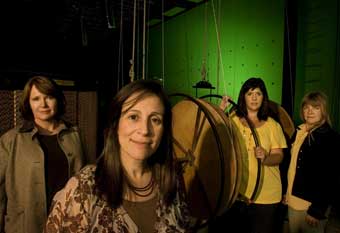 Chris Garcia's article in today's AAS, comes across as a pretty negative assessment of the current state of affairs for Texas film production. All is not lost, but we're at a critical juncture where we must have more help from the legislature.
Click Here for Garcia's Full Article in the American Statesman
As movie production scrambles to New Mexico, Louisiana, Michigan and New York, where filmmakers enjoy generous tax incentives ranging from 20 percent to 40 percent, Texas' once-robust movie and television industry is hemorrhaging. Insiders are hearing a chilling "sucking sound," as Austin filmmaker Robert Rodriguez puts it, and are taking up political arms to stanch the bleeding.

The Texas Motion Picture Alliance was formed in late 2006 to lobby the state Legislature for tax incentives on behalf of the film, video, television and gaming industries. The group won a 5 percent incentive, but it's not enough — "just a foot in the door," Rodriguez says…

…We recently conducted a casual round-table discussion at the Austin Film Society with Jeannette Scott, an Austin-based set decorator and the Central Texas representative of the alliance, and honorary alliance chairs Rodriguez, Avellan and Rebecca Campbell, director of the Austin Film Society. The conversation veered from hard numbers to focus on anecdotal evidence of what has become a dire talent-drain from Texas to other states.

…Considering that the state Legislature convenes only every two years, "This is a critical time," Rodriguez says.

Chris Garcia: Is the state of Texas filmmaking worse than ever? Ten years ago, it seemed so flush.

Jeanette Scott: It's absolutely grim. Local animal wrangler Bobbi Colorado tells me that they've had their best year ever, and it's all been in Shreveport, La. She just finished two movies there and she's going back. I've been working in Texas film for almost 25 years, and I used to turn down jobs. I watched the industry in Austin grow with this wonderful excitement and energy. Now it's just gone. It's so alarming. Lots of my friends in the business have sold their homes and moved to Santa Fe, N.M.

Robert Rodriguez: I go to Los Angeles a lot and studios and producers don't even look at the details of your movie anymore. They hear that Michigan is giving 40 percent incentives, so everybody flocks to Michigan. And Michigan doesn't even have crews. People run out there like lemmings because it's more savings.

Rebecca Campbell: They won't even look here. Like Drew Barrymore's "Whip It!," which is about Texas roller girls in Austin. She didn't even scout Austin. People didn't want her to see (Austin), because they knew they weren't going to be able to say yes to it. They went straight to Michigan and only came to Austin to shoot exteriors for about five days. It's heartbreaking.

…..

Avellan: Robert and I have spent years training people to become great crew, but now there's a huge brain drain. It is so sad to see our guys leave….

……

Campbell: Austin proper is doing its part by upgrading Austin Studios , but without the state doing its part in matching the incentives, one city can't stand up to Michigan, New Mexico and Louisiana.

Avellan: If they would pass something that can compete, all of Texas would be working, because films that were supposed to be in X, Y or Z would arrive all over Texas. People would rather come here. I just know that. There are too many producers who have shot here and want to come back. Our rates for equipment rental are much lower than other areas.

Scott: What's outrageous is that we've spent 25 years building up this industry and good will and getting our name out there. And now we're just letting it dissolve. It's a viable industry; it's not a fluff industry. People come from somewhere else with tens of millions of dollars and they put it into your economy, and then they go away, all in a very short time. It's a great business. It's great for Texas.