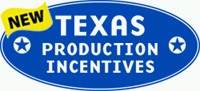 On Thursday at Troublemaker Studios in Austin, Gov. Rick Perry signed HB873 into law. This law, a dramatic improvement on the existing film incentive package passed in the previous legislative session, is designed to put Texas back into play as a first tier location filming destination. The package also boosts incentives for commercial production and for Texas' video game producers. According to press reports, because the legislation passed overwhelmingly in both houses, it becomes law upon Perry's signing. Congratulations go out to the TXMPA and lobbying firm HillCo Partners for their leadership in guiding this effort to bring film industry jobs back to Texas. Let the funding begin.
UPDATE: The House has approved the requested $60 million funding for two years while the Senate passed the bill with ony $20 million in funding, the same figure that was in the previous law. The two sides will have to come together on a funding amount and here's hoping and praying that it will be closer to $60million than $20million.
The legislators surely understand that to pay out $60 million, there will have been SEVERAL HUNDRED MILLION in production spending before any of that money is rebated. Based on a 15% rebate, the $20 million rebated would be based on +/- $133 million in spent production dollars. Hummm… $300-$400 million in production spending vs $130 million in spending in the state…which is better for Texas?