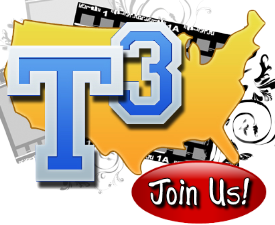 I received an email a couple of days ago and forgot to post this information. Sorry Jamie. Check out the Two-week Turnaround Tour web site at the link below. This looks like something that the Austin filmmaking community will embrace:
My name is Jamie Blankenship. I am working on a community filmmaking project called the Two-week Turnaround Tour, or T3. Thousands of aspiring and professional filmmakers will come together in 14 US cities over 7 months to write, shoot, and screen a short film in the span of two weeks in each city.
We're coming to Austin next and would love it if you could help us spread the word. All levels of experience are welcome. We believe everyone has something to offer the collaborative art of filmmaking! Austin will be our 4th city! We will be kicking off T3 Austin May 15th. For more information, you can visit our site at http://filmblazer.com/t3 and feel free to contact me anytime at Jamie@filmblazer.com
Sincerely,
Jamie Blankenship
Here's some info I copied from the really cool T3 site. This is just a tease…there's lot's more to see on the T3 site, so please check it out. Looks like fun to me.
What is the Two-week Turnaround tour?
The Two-week turnaround tour or T3 is a community filmmaking project. Filmblazer will visit 14 cites over 7 months. We will write, shoot, and screen a short film in each city in just two-weeks.
How does it all work?
Josh and Jamie get in an RV with all their Film equipment. We show up to a city and are greeted by our City Leader. We then have a kick off event, bringing together everyone who wants to help with the film. We work together to write a sweet film, shoot it, edit it, export it. We take a nap. We premiere the film, broadcasting live. We get in RV and drive to the next city. Repeat 14 time.
top
What is a City Leader?
The city leader is the local liaison for each city and will be our go-to person throughout production. The city leader needs to be a motivated, organized, film enthusiast that will help us build the city teams, scout locations, plan the premiere event, and basically be responsible for making sure Josh and Jamie get to keep their sanity. If you are interested in being a city leader please contact us!
top
What can I do to help make a short film?
This is a wide open question. Do you have access to a coffee shop? Do you have a ton of junk aka props? Can you make costumes? Are you really good with makeup? Do you like feeding people? We want everyone to bring something to the film because everyone has something to offer. Join a city and tell us what you can do. Plus we welcome people that can write, edit, act, light, you know normal film stuff