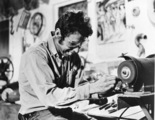 The Whole Shootin' Match
This is a rare opportunity to see a truly landmark independent film in venue other than PBS. Check it out and you won't be sorry!
Screen Door Film, THE WHOLE SHOOTIN' MATCH
WHEN: Fri May 22, 7 PM (Doors open at 6:30 PM)
WHERE: Jones Auditorium, St. Edward's University (3001 S. Congress Ave)
COST: FREE
INFO: www.screendoorfilm.com
A landmark of American independent film from 1978, THE WHOLE SHOOTIN' MATCH is a rapturous rediscovery. Eagle Pennell's first feature details the tragi-comic struggles of two small-time schemers, Loyd (Lou Perryman) and Frank (Sonny Carl Davis), desperate to land their big break. Through its anecdotal narrative and fresh, honest observation of its characters, the film intimately captures a time and place (Austin, Texas, 1977) with its atmospheric photography and rough-hewn charm, making it an inspiration for filmmakers everywhere since its release. A panel following the film will discuss THE WHOLE SHOOTIN' MATCH and it's place in American independent cinema.
EaglelPinnell 1978
Categories: Narrative Feature
Pictures 1 picture
Run time: 108 min. | USA | Language: English
No wonder this is the film that prompted Robert Redford to start the Sundance Institute. The film has been missing in action for close to 25 years.