If you're a fan of the writing of Preston Jones – and if you've ever seen one of his plays you must be – please make plans to attend the reading of his 'lost screenplay' BRADLEYVILLE, based on his plays that comprise A TEXAS TRILOGY.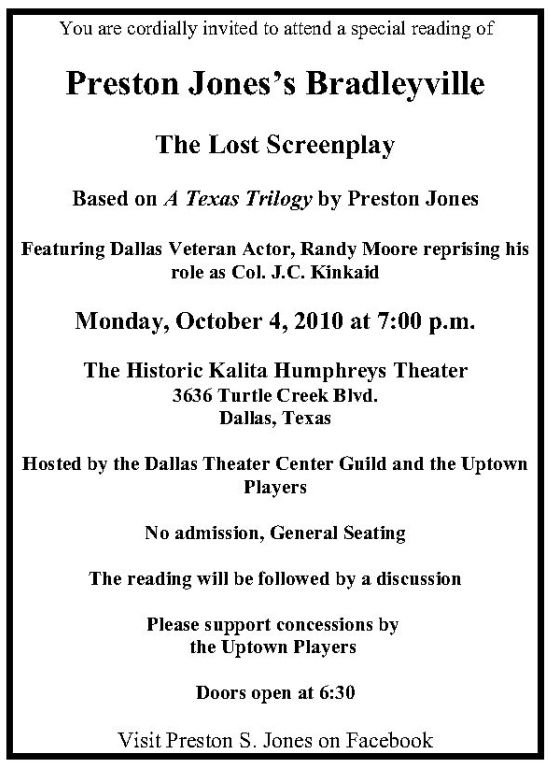 Of course, longtime Dallas theater goers will remember that the trilogy of plays, THE OLDEST LIVING GRADUATE, LU ANN HAMPTON LAVERTY OBERLANDER and THE LAST MEETING OF THE KNIGHTS OF THE WHITE MAGNOLIA were originally collectively known as THE BRADLEYVILLE TRILOGY and they were originally produced in the old DOWN CENTER STAGE and in the KALITA HUMPHREYS THEATRE at DALLAS THEATER CENTER under the direction of the late PAUL BAKER.
Although (if I remember correctly) producer Hal Wallis had optioned the plays for a film, Preston passed away before the process of adapting the plays for the screen was complete and no film based on the trilogy has ever been produced.
So…it should be a very interesting and entertaining evening to hear the draft of Preston's screenplay read aloud for what may be the first time. As a special treat former Dallas Theater Center actor RANDY MOORE is scheduled to be onhand to read the role of Colonel J.C. Kinkaid, a role he originated in the original productions of the TRILOGY plays.