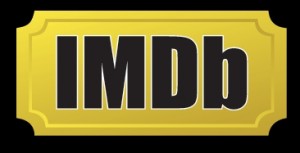 My IMDB Page My Facebook Fanpage.
After the second or third time I was told by a casting director that actors' STARmeter rankings are taking on greater importance in the casting process, it finally made an impression. Sometimes I'm slow like that.
While researching ways to maximize my IMDB ranking, I stumbled onto a new web site that looks very promising.
NOTE: The information below is ONLY FOR ACTORS. Non-actors or anyone without an IMDB page will find this information of no use.
The site is called ActorLikes. The premise of the site is to take what most actors normally do, send our IMDB page link to casting people, directors, friends, acquaintenances, etc. one at a time, and put the process on this steroid called SOCIAL NETWORKING.
What if a group of actors agree to visit my page if I in turn will check out their IMDB page and LIKE it? Sounds kind of like a play on what we're already doing on Facebook. We suggest links to films, shows, actors, etc. Having a consistent flow of pageviews and likes should increase and hopefully, stabilize, IMDB STARmeter rankings.
This has much more appeal to me than paying 'some guy' $40 a month to have his server farm hit my IMDB page. I can help another actor, they can help me.
So let's get started. Here's a link to my ActorLikes page. Please use this link to get there 'cause I get some kind of bonus points if you do. I don't get any money. The site is FREE.
There is some tweaking you need to do once you join the site and start LIKING other actor's pages. Be careful about filling up your wall (and your friends news feeds) with multiple IMDB links. I had to catch onto this after I got started. You can remove the post from your wall, but the link will remain under one of your INFO sections. As long as you have the link publicly visible, you're good to go.
For those who might want to know a bit more about the IMDB STARmeter rankings and how they work, read on. Otherwise, hit me up on ActorLikes and my Facebook Fanpage Hit the LIKE button at the top of the Fan Page even if we are already Facebook friends!
So what the heck is the STARmeter, how are the rankings calculated and why should actors who don't have multi-million dollar incomes, a posse and a harried PR flack care?
Here's how IMDB explains things:
HOW ARE RATINGS CALCULATED? " IMDbPro uses proprietary algorithms that take into account several measures of popularity for people and titles. The primary measure is who and what people are looking at on the public IMDb.com website."
WHAT DO THE RANKNGS MEAN?: "Plain and simple, they represent what people are interested in, based not on small statistical samplings, but on the actual behavior of millions of IMDb users. Unlike the AFI 100 or Academy Awards, high rankings on STARmeter and MOVIEmeter do not necessarily mean that something is "good." They do mean that there is a high level of public awareness and/or interest in the title or person.
So how does all this impact the everyday working (and often not working) actor? It means that you need people looking at your IMDB page on a regular basis to boost your ranking and to keep it from dropping into a black hole. And for most of us actors, the STARmeter ranking can fluctuate wildly over time, often over a short period of time.
My personal STARmeter ranking has gone from as low as 5,716 (pretty darn good) to as high as 630,618 (ouch). These ratings fluctuations in my case are from 1998 – Present. As of this writing my ranking is 40,065 (okay, but not great). This is where I should ask all readers to hit my IMDB page, cause I need some STARmeter love.
Given the apparently increasing importance of the IMDB and IMDB STARmeter rankings in the casting process, it behooves actors to at least monitor their IMDB page. The ActorLikes site looks like a tool that most actors will want to consider.