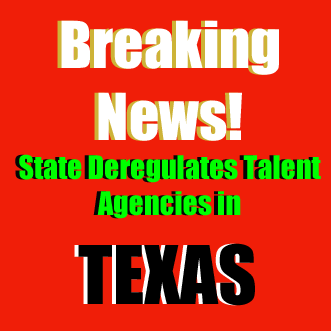 The 82nd Texas legislature may have cut the film incentive package from $60 Million for 2 years down to $30 Million, but at least they found time to make sure that talent agencies in Texas no longer have to be licensed or bonded. What a stroke of good luck for Texas talent. (That was sarcasm)
Believe it or not HB3167 which takes effect on September 1, 2011, abolishes state regulation of talent agencies and personnel services.
For some reason interior designers are also lumped into this mix, so Lord knows we all need to be on the lookout for any new Interior Design Talent Agencies that may spring up in River City.
Ah…so what? So talent agencies aren't going to be regulated. Is that a really big deal?
It is if you're an actor, particularly a novice actor or the parent of some little Johnny or Jane who wants to get into the actin' bidness.
With no licensing and no bonding required for talent agencies, expect an influx of rip off 'agents' who will steer new comers and wannabes to 'their' photographers, 'their' demo reel or 'slate' producers, 'their' acting coaches or 'schools' etc. And don't forget the 'upfront fees' that the scammers often charge.
Want to sign with the XYZ Modeling and Talent agency, well there's a signing fee of $100, $300, $500, or more and you can say your little budding star has an agent. The uninformed and the desperate won't know that no legitimate agent charges an upfront fee to talent. PERIOD. They'll just know they 'have an agent'. Uh…NO. They have a new dependent. They just can't claim him/her on their tax return.
And what about the commission charges?
SAG and AFTRA mandate that an agent can take no more than 10% of their actor's earnings. Already, in our market it is common for the non-franchised agents to take 15% or more from their non-union talent. What happens when these new agents that will be drawn to this market decide that talent must pay 25% or more? If the talent doesn't know any better, they may think these are standard industry practices. They are not.
Having ANY agent is better than not having an agent at all isn't it? NO. Having a BAD agent, particularly a bad agent who is also a crook, is much WORSE than having no agent at all.
If you or your youngster is signed with one of the scam agencies, then you only THINK you have representation. You're not only wasting your money, you are wasting precious time that could be spent getting professional representation and career guidance from a legitimate agent.
You'll be waiting for audition calls that never come. And let's not even get into the really seamy side of the business that can involve the 'casting couch' in an 'agents' office or worse, the stone cold creeps who are just looking for a way to get close to your kids. Think I'm overstating? Think again.
Unsuspecting and ill informed talent, particularly the young and their parents, could end up signing contracts that bind them to these agencies with contractual language that goes well beyond the terms allowed by SAG and AFTRA franchised agency agreements and well beyond the norms for the existing and ethical non-franchised agencies.
Can this seemingly bonehead move by the legislature have a silver lining? I think it might.
As a longtime member of SAG (Screen Actors Guild) and AFTRA (American Federation of Television and Radio Artists) I HOPE that existing non-franchised agencies that are running ethical operations will strongly consider franchising with the guilds.
It is in the interest of these agents to separate their operations from the scum suckers that will surely hit the market. Those of us who are already here and active know who the good agents are. But the lines will begin to blur in the eyes of the public and the new comers to this market. And it won't take that long.
At this time all of the SAG and AFTRA franchised agents in Texas are in either Dallas or Houston. We have no franchised agents in Austin. We are lucky because we have some of the best agents in the state in our market. We have some great, ethical, hard working, non-franchised agents in Central Texas but I'm hoping the time has come for them to step up and franchise with SAG and AFTRA.
Agents who are able to advertise their operations as being SAG and AFTRA franchised will offer the public and their talent rosters assurance that these agents are REAL talent agents and not just moneypits.
These non-agents will accomplish at least one thing.
They will take talent that are mostly at the beginning of their careers and they will sidetrack them into classes and substandard training; they will stall their growth at the very time when they need to be learning and improving by leaps and bounds to really compete as professional actors.
Make no mistake that the Agents In Name Only know all the tricks of the trade. Some of them will even SEEM to be legit. But they will cut corners and cross lines that can't be crossed by responsible, ethical talent agents.
What kind of protections does SAG offer to member actors?
Non-union actors do not have the protections offered to members of SAG and AFTRA. And now they have a much harder road to travel to receive help from the state of Texas. Ready to get in line at the Attorney General's office?
Here are some of the areas covered by the SAG Agency Department:
the interpretation and enforcement of SAG's Agency Regulations and Contracts, [a/k/a Rule 16(g)]
responding to performers' questions and concerns about their agency relationships
investigating member complaints
interacting with agents, attorneys, casting directors and other designated performer representatives on all topics
mediating disputes between agents and members in order to diffuse conflicts before arbitration becomes necessary
maintaining working relationships with talent agent organizations (e.g., ATA, NATR), as well as other industry labor organizations (e.g. AFTRA)
advising members on the terms and conditions of onerous general service agreements (or "GSAs") outside of SAG's jurisdiction
keeping abreast of new legislation relating to agency matters
consulting and assisting SAG staff across the country on agency rulings and policy; maintaining an "Actors To Locate" service for potential employers seeking to hire SAG members
and facilitating arbitration between members and agents, when necessary.
A word to SAG Eligible Actors
Hopefully the fact that the state will no longer offer agency licensing and bonding protection will encourage experienced, eligible actors to help strengthen the Texas SAG and AFTRA membership and join. You are already benefiting from the SAG and AFTRA contracts without paying any of the freight that helps establish the wage minimums, working conditions, producer pension and health care contributions, residual payments, etc.
If deregulation results in more franchised agencies in Texas and encourages experienced, eligible actors to take advantage of the protections offered by SAG and AFTRA membership, then maybe, just maybe it will have been a better move than it seems right now.