Here's a tee shirt I had made up just for us actors. An actor shirt. It says just what we have so often told family and friends. "I DO HAVE A JOB – I'M AN ACTOR." This is a limited time offer from Teespring.
Pre order and if we get 10 or more, then the shirt gets printed and you're charged $16.95.
If we don't tip the order at 10 or more then you don't get charged.
Let your actor friends know about this shirt sale and help me make sure they get printed. Thanks, Actor.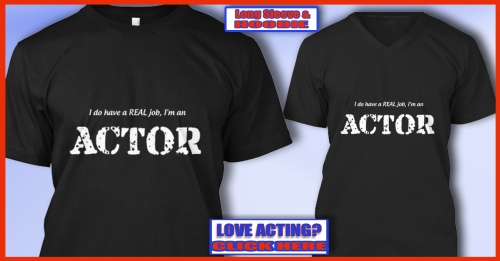 Did anyone ever hit you with the "When are you going to get a real job?" line?
Or how about, "Aren't you a little old to be chasing dreams?"
Or "Should't you be pursuing a career that has some kind of likelihood of success?"
Well…we've all had those kind of things hurled our way. And the truth is that people who say those things sometimes mean well, but they just don't get it.
How can they? They're not actors…or writers…or directors…or probably not creative people in general. They're 'practical.' And that's fine for them.
But not for those of us pursuing a career, a life that we love.
We do have a job. We're ACTORS.
You don't have to say anything. THIS SHIRT says it all for you.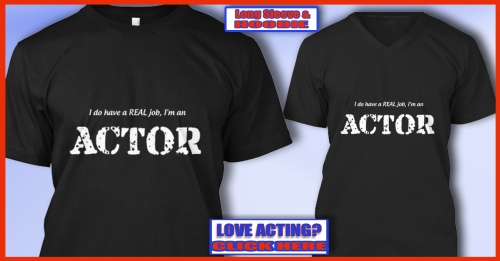 BUY IT NOW – THE SALE ENDS SOON!